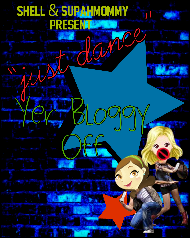 Back to defend the title of Dancing Queen!
Thanks for all your congrats on my win last week! Apparently dancing skills do help you out in this game after all. :)
This week was exhausting! I think I liked having one day to practice better! Every time I fixed an "x" here I got another one there. Then when I didn't get an "x" I had too many "ok's." It was frustrating. Therefore, if you were able to beat my score, I will bow down and gracefully hand you the crown!
So let's get down to it shall we?
High Score: 12229
Shout out to
Shell
&
Supah
for hosting!