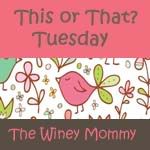 Do you buy your makeup at a discount/drugstore or some type of specialty makeup store?
Since I was a junior in high school, I've used BeautiControl's wet/dry foundation. I buy it on ebay. That's the only "professional" make-up I've ever used. I get the rest at Wal-Mart. Love Cover Girl's eye corrector and concealer. Sephora? Nearest is over 3 hours away. Never used it and probably never will. Ulta? Never heard of it.
So ya, I'm cheap.
For more This or That, visit
Winey Mommy
.