I took The Baby in for her 4-month check a couple weeks ago. She only weighed 11 pounds 2 ounces. She was 10 pounds at her 2-month check. She only gained a little over a pound in two months. She went from the 26th percentile to the 4th.
DrM was only slightly concerned because she's doing great otherwise. Developmentally on schedule, happiest baby ever, yatta yatta yatta. He told me to start some cereal and bring her back in a month so he can check her again. If she still isn't gaining well, he wants me to supplement formula.
This made my heart sink! I've written about my
breastfeeding struggles
with the other two and really thought The Baby and I were getting it. Then this happens, just as I was finally at the point of thinking we were successful in our breastfeeding relationship.
Ever since the beginning I've had to be very aggressive with breastfeeding The Baby. I was always forcing her to eat longer than she really wanted because I was so paranoid about her getting enough. When she hit 2 months and was gaining well, I let her take over. She would never eat for very long at all, but she was happy and content, so I left it at that! So now I'm back to pushing her and it hasn't been easy!
On top of that, she ended up getting sick and was pretty much spitting up everything that went in. Pretty sure she lost some weight, which is just fantabulous.
I tried cereal for a couple days but I read in several places that breastmilk is more fattening than cereal. So why would I replace breastmilk with cereal? She hated it anyway.
Have any suggestions for me?
Linked at Shell's.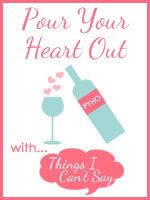 Oh and take a look at my
upcoming giveaway
that will start on Saturday!