I #justdance w/ @shellthings & @supahmommy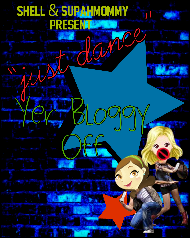 I wish I wasn't such a procrastinator. I could've went back to bed after getting Otter to school because the girls were still sleeping, but I chose to just dance instead. Wish I would have that kind of motivation with everything else!
Hope you enjoy the view of my crotch the entire time. Oh and the camera was on the swing, hence the rocking.
High Score: 5729
Linked at
Shell's
and
Supah's
.