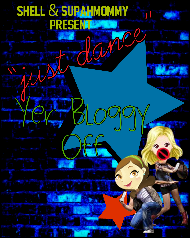 As a former cheerleader and dance team captain, I can honestly say this game has nothing to do with dance ability. I really thought I would rock this, but I totally sucked.
*UPDATE: Ok so I was wrong. I DID TOTALLY ROCK this. Maybe dance ability helps after all!
My arms are sore and I very nearly injured myself on several occasions.
I received Just Dance in the mail yesterday so that's my excuse. I didn't have as much time to practice. :)
The first time I was all peppy and included a full commentary, by the end I was just plain pissed off.
I'm slightly competitive.
Anyhoo.
Without further ado...
For your viewing pleasure...
JUST DANCE: Girls Just Wanna Have Fun
Starring Messy Mommy (and The Baby in the background)
High Score: 9556
Thanks
Shell
and
Supah
...for giving me this opportunity to
LOSE MY MIND
dance!